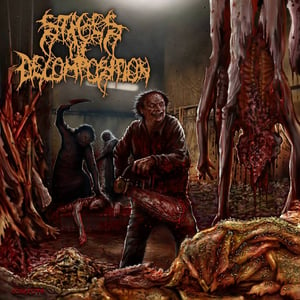 $

10.00
Our debut album is finally in stock again. Here is an excerpt from Amazon Music:
Los Angeles heavyweights STAGES OF DECOMPOSITION's long awaited debut album Piles Of Rotting Flesh finally sees the light of day. Old school sounding death metal with a new age brutal twist! This trio is in a complete league of their own.
Tracklist is:
1 Genital Adipocere
2 Cadaveric Molestation
3 Chainsaw Disemboweled Cadaver
4 Acid Bath Orgy
5 Piles Of Rotting Flesh
6 Devoured And Defecated By Swine
7 The Butcher Of Plainsfield
8 The Burning
9 Schizophrenic Nympho
Please let us know if you'd like the cd or digipak version with your order.